Posts

1,383

Joined

Last visited

Days Won

9
About Wallag

Recent Profile Visitors
The recent visitors block is disabled and is not being shown to other users.
Wallag's Achievements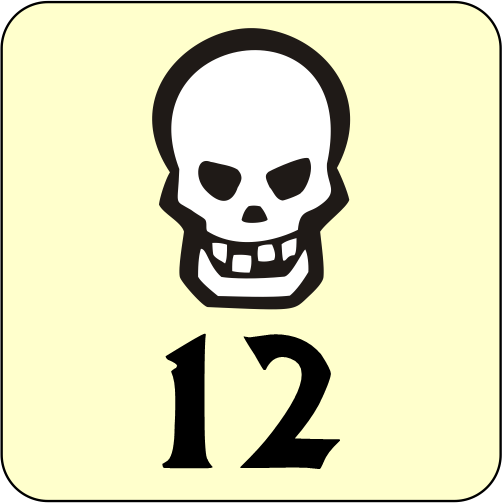 Sterminatore di Mummie (12/31)
118
Reputation
Buon Anno a tutti! E' da molto che non mi collego, e speravo di leggere qualche bella notizia su sto cacchio di TseuQuesT! Devo dedurre che anche a voi non sia ancora arrivato nulla... manco l'ombra di sto aborto di gioco. Nel frattempo ho fatto in tempo a comprare HeroQuest, e tutte e tre le espansioni esistenti. Devo dire che il Barbarian Quest in Italiano è tanta roba. 🙂 Vabbe ragazzi, un'altro anno è andato... incrociamo le dita, forse i miei discendenti riceveranno la famigerata scatola di TseuQuest... non che mi interessi, ma almeno potrei usare le minia e gli arredi nelle avventure di Heroquest. Saluti a tutti.

Wallag

reacted to a post in a topic: HeroQuest torna dopo 32 anni, aperto il pre-ordine su Amazon.it

Stendal

reacted to a post in a topic: HeroQuest torna dopo 32 anni, aperto il pre-ordine su Amazon.it

jo.albo

reacted to a post in a topic: HeroQuest torna dopo 32 anni, aperto il pre-ordine su Amazon.it

Per chi fosse interessato, volevo segnalarvi che oggi con il PrimeDay è possibile acquistare su Amazon il gioco di HeroQuest 2021 a soli 99,90€ con consegna in un giorno! https://www.amazon.it/Hasbro-Gaming-Heroquest-Avventura-Miniature/dp/B09M9FWPVG/ref=sr_1_4?__mk_it_IT=ÅMÅŽÕÑ&crid=5P9H64VE86DO&keywords=heroquest&qid=1657618979&sprefix=heroque%2Caps%2C128&sr=8-4

Ragazzi, so che vi sto chiedendo una cosa che vi farà inorridire ma... Qualcuno di voi ha acquistato recentemente delle miniature dalla Gamezone? Nel senso... a parte il gioco in se, se si ordinano le miniature o gli oggetti scenici (che risultano "available"), sapete se li spediscono? 😱

Wallag

reacted to a post in a topic: HeroQuest torna dopo 32 anni, aperto il pre-ordine su Amazon.it

Avevo partecipato al crwfounding, non ho fatto il cambio... sto ancora aspettando che arrivi TseuQuesT nel frattempo ho preso HeroQuest su Amazon. 🙂

Gioco finalmente arrivato! Commenti a caldo: Miniature fantastiche, molto dettagliate ed anche i nuovi Abomini a mio avviso rimpiazzano in maniera egregia i Fimir. Arredamenti in 3D molto molto belli. Nuova grafica molto bella, aggiornata ai tempi nostri ma con un gusto retrò che fa rivivere epiche partite. 🙂 Finalmente anche in Italia il GameSystem americano con regole e statistiche che finalmente hanno un senso (rispetto al regolamento Europeo di 30 anni fa). Unica nota negativa la scatola! Cartoncino leggerissimo che si rovina solo a guardarlo... penso che tra una settimana assomiglierà alla scatola del mio vecchio HQ di 30 anni fa (ma come cacchio gli è venuto in mente). Altra nota negativa il "portaminiature" sagomato fatto di cartavelina... ho già acquistato la schiuma sagomata della Feldherr e presto finiranno nella spazzatura. Per il resto è il nostro caro vecchio HQ. TOP!!!!

Ciao a tutti, magari il titolo è un po' eccessivo, ma quello che volevo chiedere agli amministratori del sito è se pensano di aggiornare il materiale presente nel sito alla nuova versione di Heroquest 2021. Non so se questa cosa è già stata presa in esame, io nel forum non ho trovato nessuna discussione a riguardo. Ad esempio visto che adesso il tabellone ha le caselle da 1" (25mm) tutte le tiles sarebbero da rivedere o ridimensionare. Inoltre sarebbe bello aggiornare tutto il materiale per renderlo utilizzabile con la nuova versione, credo che non sia un grande sforzo perchè essendo un game system le dinamiche e le regole non sono cambiate. Avete già in progetto una cosa del genere?

Vabbe, niente non ce l'ho fatta... ho acquistato la nuova versione di HeroQuest. 🙂 Non potevo aspettare che il pelato mi spedisse la copia di TseuQuesT e sopratutto non potevo avere un gioco con quel nome... haahahaaaa. Arriverà nei prossimi giorni. Poi vi dirò.

Ciao a tutti, è parecchio tempo che non posto nulla... ma continuo a seguire il forum a distanza. 😉 Volevo solo rendervi partecipi del fatto che ho scritto alla Gamezone per avere news sulla spedizione del famigerato TseuQuesT. Questa la risposta: Quindi... dobbiamo solo attendere e sperare, forse ci siamo veramente. 🤞🏻

Non posso credere che dopo anni si torni su sta bufala... 🙂 Comunque, a me dice che per fare il cambio dovrei dargli ancora 20,80€??? Ma sono pazzi? Dovrei aggiungere ancora soldi per avere una cosa taroccata... piuttosto perdo i soldi (che ho ormai ho dato per persi da anni).

Per quanto mi riguarda ormai (dopo più di 4 anni) ... ca**o 4 anni!!! ho appena guardato la fattura ho dato per persi quei 130€. Non mi importa più nulla... tanto meno spendere altri 13€ dando a sconosciuti copia della mia Carta di Identità, copia della fattura, copia della ricevuta di pagamento ecc ecc... Che, come ho già detto, è molto probabile che si intaschino tutti i soldi e poi vengano a dirti "eh ci spiace ma non siamo riusciti a farci rimborsare" intanto tutti i soldi ve li siete intascati voi! Se veramente vuoi fare una class action, prendi un pull di avvocati che verranno pagati in caso di vittoria. Se no ciccia anche per voi. Perché parliamoci chiaramente, a sti signori , a loro, cosa viene in tasca di fare questa class action? Gli vengono in tasca i nostri soldi comunque ed indipendentemente dal risultato. Eh no belli.... fesso mi fai una volta sola. Almeno io la vedo così... tanto prenderli o perderli sti 130€ non mi cambiano la vita. Ci ho provato, mi hanno fregato, non mi fregheranno mai più.

Si magari è un po' dura e diretta però in effetti ha senso. Perchè loro dicono, noi come associazione facciamo causa, se fai parte dell'associazione e questi pagano becchi i soldi. Se no non becchi niente. Il mio dubbio è che paghiamo questi 13€ non si combina niente... noi perdiamo altri 13€ (noccioline) intanto altri avvocati beccano soldi.... e via continuiamo a mantenere gente! Perche 13€ per tutti i Beckers sono un sacco di soldi.

Ciao a tutti gli heroquester 25th. Ho appena ricevuto questa email da Lanzanos: Che si fa? investiamo altri 13 EUR? Anche voi l'avete ricevuta?

Scusate la domanda retorica... ed un po' provocatoria. Ma visto che ormai è appurato che il progetto è naufragato e non si riceverà nulla, mi chiedo come sia possibile che sul sito della Gamezone ci siano ancora riferimenti al gioco e la possibilità di prenotarlo ecc... Oltre al fatto che il mio ordine risulta ancora presente in attesa di spedizione. Ma non esiste una "polizia postale" o qualcosa del genere che gli faccia chiudere il sito???

Io ancora mi sto chiedendo come ho fatto a cadere in un tranello del genere (non avevo mai finanziato nulla, di qualunque tipo, proprio perché non mi fido di nessuno) ma soprattutto mi chiedo come abbia fatto a fallire un progetto del genere quando i risultati del crowdfunding sono stati i seguenti...giusto come reminder! Avevano chiesto 58.000€... gliene abbiamo dati 680.000€ a sto bastardo.

Io ho provato a mandare una mail a Gamezone chiedendo che mi rimborsassero i soldi oppure mi dessero un buono per acquistare miniature sul loro sito... Per ora (settimane) non ho ancora ricevuto risposta ... e non mi aspettavo neanche di riceverla. Ci ho provato....