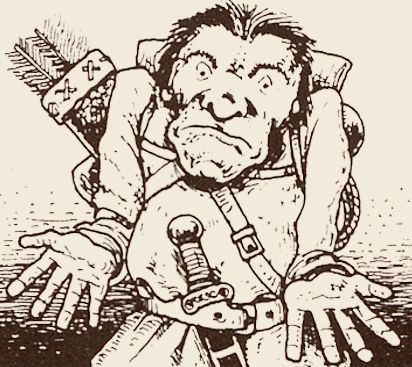 Content Count

5

Joined

Last visited
About junkie
Rank

Collezionista di goblin morti

Recent Profile Visitors
The recent visitors block is disabled and is not being shown to other users.
Grazie. il fatto è che a volte mi fanno proprio incazzare !!! :D scherzo naturalmente .

Il fatto è che a volte vengono fuori discorsi del tipo : PG : sposto l'armadio davanti alla porta. DM : Non puoi. PG: perchè ? DM : Perchè non è previsto dal regolamento PG : Io voglio spostarlo comunque. DM : è pesante ok? PG : Io ci provo lo stesso. DM(nervoso): Ok mentre provi a spostare l'armadio attivi una trappola con lancia . perdi un punto corpo. PG: perchè ? DM: perchè si. Perchè sono io che decido e tu muori !!!!!! :D

Non sò se è la sezione corretta. volevo chiedervi : se uno dei PG mi dice di voler spostare un armadio , posso farglielo fare ? Semmai posso usare la regola delle porte di pietra dell' espanzione " L 'Orda degli Ogre ?" Grazie .

Ok grazie. metterò a posto l'immagine .

Purtoppo già lo sà di avere un capitale tra le mani :P . Infatti avendo 2 set base ne porta via solo uno ogni volta che giochiamo , quello messo peggio. Per i programmi per le tiles normalmente per D&D li faccio con Photoshop.

Grazie a tutti per il caloroso benvenuto. Praticamente tutto il materiale che ha la mia amica era del fratello che si è sposato ed è andato via di casa, lasciando una montagna di giochi di ruolo e giochi da tavolo nella sua vecchia camera. Ha anche Starquest ( non ancora provato ) e un cassetto pieno di carte di magic delle prime edizioni ( niente power nine purtoppo :( ). Mi sono iscritto perchè essendo grafico e appassionato di giochi di ruolo ( gioco anche a D&D ) volevo dare il mio contributo nel creare nuove carte , tiles e personaggi .

Ciao a tutti mi chiamo Daniele e sono di Perugia. Sotto le feste di Natale un'amica della mia fidanzata ha portato a casa mia Hero quest con tutte le espansioni uscite in Italia, da quel momento ogni martedi sera ci vediamo per giocare. Ho scoperto da poco questo splendido sito e volevo fare parte della vostra community. Grazie di avere accettato la mia richiesta.