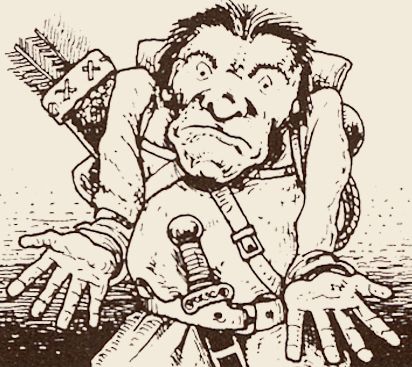 Content Count

9

Joined

Last visited
About Il Riccio90
Rank

Collezionista di goblin morti

Recent Profile Visitors
The recent visitors block is disabled and is not being shown to other users.
Ho già detto la mia, ma sulla questione tabellone sulla scritta di lato la motivazione (se è quella che penso io) ci sta tutta ed è comodo così: Nel regolamento originale nelle istruzioni di Morcar c'è scritto che il master deve mettere il tabellone con la scritta rivolta verso di lui, ovviamente per facilitarsi con il questbook e avere tutto nel senso giusto. Avere la scritta sul lato lungo, e mettendo il tabellone nel senso del tavolo porta il master, che è 1 solo cristiano, a occupare 1 tutto un lato lungo. Invece così può stare comodo a capo tavola così lo schermo è anche più cop

HeroquestOnline

reacted to a post in a topic: HeroQuest: The Quest is Calling (by Hasbro & Avalon Hill)

Faccio anche notare che la Gamezone è una cosa, ci sta per lei far partire progetti tramite crowfunding. La Hasbro ha un fatturato di circa 4,5 miliardi di dollari all'anno. Lo riscrivo in numeri perchè ad una lettura veloce non è ben chiaro quanto sia: la Hasbro fattura 4.500.000.000 di dollari all'anno. Sinceramente non vedo nessuna necessità di un crowfunding. Con il marketing che possono permettersi loro un Heroquest, che è un gioco già rodato, è una passeggiata.

Esattamente mio euforico amico. Non ho mai detto che non l'avrei preso perchè questa è una brutta malattia. 😂 La cosa sicura è che non lo prenderò con questa raccolta fondi, se esce ufficialmente nei negozi ok, se no pazienza.

Per niente soddisfatto: - gioco a quanto vedo non minimamente variato, quindi troppo semplice così com'è, mi aspettavo anche una rinnovata al gioco in se. - stile delle miniature non di mio gradimento, troppo Age of Sigmar. - solo in inglese ma va beh, mi adatterei. - crowdfunding, che se si parla di Heroquest non è una bella parola. - peccato per la mobilia, quella meritava parecchio, ma come progetto non mi alletta per nulla.

Allora come lavori ho un dungeon 3d fedele al tabellone originale visto che odio le tiles "libere" per vari motivi, venuto molto bene ma non completo, mi mancano di dipingere le pareti interne removibili e alcuni dettagli, sono fermo da 1 anno per mancanza di spazio ma a fine anno dovrei cambiare casa quindi penso di riprendere. Ho ultimato il mio primo Questbook con una spiccata vena ironica con 15 missioni. Mi sono accordato con un pittore per far dipingere le mie miniature, che sono tante visto che ho più di un set, perchè ormai non ho più la pazienza, preferisco "costruire" che d

Ciao vi scrivo dalla provincia di Lodi, appena lo termino vi posterò il lavoro che sto facendo da un po' (un po' tanto) intanto mi spulcio il forum che è pieno di cose interessanti!

Ciao Il Riccio90 e benvenuto sul Forum Italiano di HeroQuest. Qui troverai infinite risorse gratuite e in italiano per espandere all'infinito il più bel boardgame del mondo. Prendi quanto prima visione del Manifesto del Forum. Se hai dubbi sul funzionamento delle varie sezioni apri un ticket nella sezione Supporto Online.

Ti auguro buon divertimento e buona permanenza a nome della redazione Heroquestgame.com.