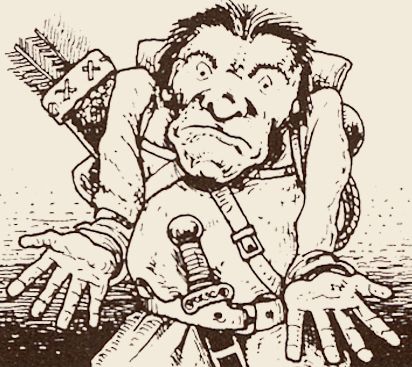 Posts

162

Joined

Last visited

Days Won

13
4m3n0's Achievements
Cacciatore di goblin (5/31)
152
Reputation
Mi accodo ai complimenti, sia per la pittura, che per la scultura della miniatura, salvo il didietro che mi sembra un po' piatto per i miei gusti :DDD, ma son dettagli.

Perdonatemi se continuo con l'OT (magari è presente in questo forum una discussione su queste miniature), ma quindi la maga e gli altri due sono tue sculture? Complimenti in tal caso! Se ci fosse qualche info a riguardo la leggerei volentieri. La maga l'ho scoperta per caso, ripeto, cercavo una donzella per una modifica di un pezzo di HeroQuest e eBay mi ha piazzato davanti la tua maga. Forse, con più visibilità, ci sarebbe più interesse, miniature del genere sono mille spanne sopra quegli obrobri della Hasbro.

Ciao @lestodante, ero capitato per caso (prima di leggere questa discussione) sul tuo ebay. Fra le altre cose, ho visto che hai delle maghe (di plastica!!) che mi sembrano perfette per Heroquest (non i soliti lavori amatoriali o le solite miniature stampate da altre case che hanno uno stile tutto loro, estraneo a Heroquest). Posso chiederti se ci sono altri personaggi oltre alla maga scolpiti con lo stesso stile e di plastica? Grazie!

The MasTer

reacted to a post in a topic: HeroQuest torna dopo 32 anni, aperto il pre-ordine su Amazon.it

Infatti sarebbe un po' laborioso attraversare una porta con lo stendardo o innalzare lo stendardo negli angusti passaggi. Per me una fiaccola potrebbe assolvere a un compito di supporto agli eroi, i mostri penso che trovino conforto nelle tenebre.

Se il pattern dello sfondo è lo stesso per tutte le carte, si potrebbe ripulire quella più vuota e ripristinare lo sfondo con tante piccole correzioni a mano libera. Con la tavoletta grafica di solito uso solo bianco e nero, ma finché la scala di colori è ridotta rimane fattibile. Però mi sorge una domanda, nella mia ignoranza: non basta aspettare che esca in commercio la carta in italiano?

In Demonform vedo occhi everywhere e quelle che sembrano dita artigliate o denti... Pare nel complesso un ragno ritratto da Picasso. Ho ridotto il rumore con gimp alla scansione (non ho alla mano photoshop ahimé):

Mi accodo alle lodi. Una volta stampate son indistinguibili dalle originali? Si potrebbe unire l'utile al dilettevole e stampare anche le carte mostro all'americana e, perché no, integrarle con gli altri mostri (skaven, ect, ect). 🙂

Forse c'entra la Tana dei Goblin? Sono, erano, loro i traduttori, avevano presentato su Youtube il gioco con la loro traduzione non definitiva. Magari han bisticciato?

Ti dico io cosa fare!! 😈 (S)vendimi il tuo originale perché ormai, oh, è superato, è dell'era dei dinosauri. E' pure maschilista perché donzelle nel range di miniature non ce ne sono. E le orche ci vogliono, anche al di fuori dell'Oceano Antartico. Quel tuo polverosissimo Heroquest varrà... bah, 20 euro massimo! E così hai un bonus di ben 20 euro per acquistare la versione nuova fiammante, reclamizzata in lungo e in largo! E non produci immondizia a rivendere l'usato!! Pensa che affarone!

99€ per il black friday. Se avessi soldi da buttare e se dentro la confezione vi fossero degli adesivi con la dicitura "Hero" che applicheremo a nostra discrezione, un pensierino lo farei, ma son povero.

Non vorrei fare il menagramo, ma nel mio caso tutti i pacchetti son arrivati a casa col sovrapprezzo (proporzionale al valore dichiarato....). Solo una busta ha evitato il balzello. (Mi riferisco a compravendite su ebay, magari nel tuo caso hai a che fare con un venditore che nelle spese di spedizione ha già incluso quelle di importazione.)

@Daniele28 se la pittura, nonostante quel malamente, non copre i dettagli, io ci dipingerei sopra, ossia sfrutterei lo strato precendente come primer. Le miniature son nelle tue mani, quindi valuta se i dettagli, anche i più piccoli, siano ben definiti o meno.

Penso sempre a quegli strani dadi a forma di prisma, chissà se funzionano per davvero. Un po' penso anche che mezzo del pasticcio l'abbia combinato la Hasbro, mettendo i bastoni tra le ruote alla Gamezone per piazzare sul mercato un prodotto a sua volta non ottimale. Questo nano Gamezone mi tenta. In un certo senso mi è famigliare.

Barbarino: scarpe grosse e cervello fino. Scusatemi, m'è scappata.

Partirei dalle navi dreadnought, che da Wikipedia significano non temo nulla. Dread Warriors potrebbe venire tradotto con... Guerrieri da Temere. Suona male.